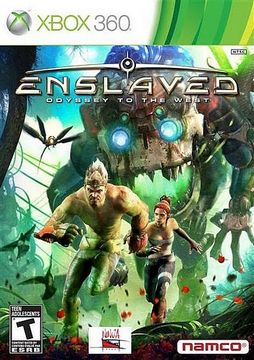 "Enslaved: Journey to the West" was one of those pleasant surprises one gets from times to times, due to low expectations… I wasn't expecting much from the game (all I've seen was some video review and some comments in websites), and I wouldn't even pick it up, if a friend of mine didn't borrow me his copy…
Enslaved is a very nifty action/adventure game, that takes place on a post-apocalyptic world where war-machines have almost destroyed mankind, and where we control a character called "Monkey". Monkey is enslaved by the token sexy woman, through an headband that deals extreme pain on command… the girl then proceeds to the usual "take me home and I'll set you free" blackmail. The story has more to it than this, but I don't want to give much away anyway, and this is the core of it anyway.
What stands out in the game is the richness of the scenario elements… Instead of the usual gritty grey and browns, the game features bright saturated colors that work very well to break the usual drabness of this kind of games.
The game isn't brilliant in any of the mechanics: fairly simple puzzles, the platforming isn't Prince-Of-Persia level, the combat is slow-paced and lacks control, the flying disc parts are almost uncontrollable. The sum of it all is surprisingly very cool… It feels like a genuine adventure, with good level and area design saving what would otherwise be a mediocre title from a gameplay standpoint… there's lots of memorable moments in the game, that kind of make you feel "hell yeah!".
I have only two negative points to call out:
The "Journey to the West" association… In the original story (http://en.wikipedia.org/wiki/Journey_to_the_West), Monkey is atoning for past sins… in this one, it seems that Monkey is actually a good guy just trying to survive, and what the girl does to him is the really inexcusable act… It feels like somebody had a nice idea for a story and somebody went "Hey, that reminds me 'Journey to the West', how about we say the game is based on that?!".
The ending is weak… I understand what they were trying to do, taking a more philosophical tone, but to be honest, it felt silly and out of place, to be honest… A good philosophical debate in my opinion has two equally valid standpoints, and the discussion is just a matter of perspective… Well, after you played the game, the "other" standpoint in the philosophical debate is just plain wrong, however you phrase it… it seems just a play on words, to be honest…
On the plus side, the characters (which initially seem one-dimensional and annoying) kind of grow on you, and I ended up enjoying them very much, which is refreshing!
All in all, the game was a very good way of keeping busy for 8 hours or so of solid game with some "hell yeah" moments! 8/10
Next on my list: "Dead Space 2"